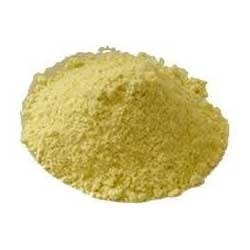 Ginger Powder
Product Code : V1
190/ INR
Price And Quantity
Minimum Order Quantity

:

20/
Unit of Measure

:

Kilograms/Kilograms
Product Description
Our huge gamut of spices and ingredients consists of Dehydrated Ginger Powder. This dry powder supplements the daily nutritional needs and serves as a time saver. With significant amount of nutrients, it provides the goodness of fresh ginger. It contains no artificial flavors or colors and is safe to use. Procured from our reliable vendors, it is peeled, washed, dried and then chopped to desired particle size. Clients can avail this, Dehydrated Ginger Powder from us in various packaging as per their requirements.
Possibly effective for:
Increases metabolism rate
Anti inflammatory properties that can soothe arthritis
Weight loss
Specifications:

Colour: Creamish.
Product name: Dry Ginger Powder.
Origin: India
Odour/taste: Free flowing / characteristic flavour & odour of fresh Ginger
Other Information
Packaging Details: We Offer 5 Kg Poly Packs
Fresh ginger is dried and then grounded to powder before being used. This off white spice has pungent flavor and strong aroma. Easy to store, this dry ginger powder has a long shelf life of a year.

Other names :

Sonth/Soonth/Saunth in Hindi
Shunti in Kannada
Sonth in Bengali
Soonth in Gujarati
Suntha in Marathi
Chukku or Sukku in Tamil
Chukku in Malayalam
Sonti in Telugu

Culinary Uses :
This powder is a part of spice mix or masala, which are used in gravies, and curries.
Also used with other ingredients to make masala tea.
It is added to marinade preparation for Tandoori starters, both vegetarian and non-vegetarian.
It is used to add flavor to breads.
Expecting women and feeding mothers can be benefited from dried ginger root powder added to their food.
This powder can also be used to add flavor to baked dishes, like ginger cookies and ginger flavor candies.

Other Uses :
It can be used as a skin toner, that can protect the skin, remove impurities, hydrate the skin, reduce dryness and tone the skin.
It can be used for making a mixture that can cure stomach irritation, on consumption.
Headache can be relieved. Similarly, throat pain can be relieved.
It can also cure chest pain.
Anti-inflammatory properties in garlic powder can soothe arthritis.
It is helpful in treating common cold symptoms.
It is beneficial in increasing metabolism rate.
Cholesterol and triglyceride levels can be reduced using garlic powder.
This powder can aid in weight loss.
Flatulence can be cleared with the mix of this powder, black salt and asafoetida.
Urinary infections can be treated.
Upon onset of migraine pain, one can take this powder with warm water for instant relief.
Is fine-ground, light yellow, pungent-lemony like aroma, sweet and warm flavor.

USAGE :
Ginger is included in almost all Indian curry recipes. The best way to use them is fry chopped ginger along with chopped onion. Stomach diseases can be cured with ginger.

SCIENTIFIC NAME :

Zingiber officinale Roscoe is botanical name
Zingiberaceae is family name
The rhizome is commercial part